CaPS and CapMan for Good raise more than €95,000 for Tukikummit in 2020
December 18, 2020
We are proud to have raised more than €95,000 for Tukikummit this year!
CapMan's procurement service CaPS and CapMan for Good, together with 70 participating companies from CaPS and CapMan's network raised €96,500 for the Tukikummit Foundation. The proceeds are used to provide means for children and young people to continue with hobbies and have access to study material.
"We are truly amazed by the enthusiasm that participating companies have shown for this year's fundraise. This year has been difficult, as many families struggle to cope with the new reality brought on by the Covid-19 pandemic and its negative effects on both studies and hobby activities. Virtual classrooms and distant learning place additional pressure on all kids to have access to e.g. laptops in order to conduct their studies. This has put already vulnerable kids at an increased risk of marginalisation. While businesses have also had a hard time, it is wonderful to see that so many still stepped up and donated for this important cause," comments Maximilian Marschan, Managing Partner of CaPS and Board Member of CapMan of CapMan for Good.
Tukikummit – it matters that youth have a meaningful life
The Tukikumit foundation supports children and young people that are at risk of becoming marginalised due to the economic situation in their families. CaPS has together with its networks raised a total of almost €800 000 euro for Tukikummit since 2014. The contributions have reached approx. 10,000 Finnish kids and youth.
CapMan for Good – when you need a hand to drive change
CapMan founded the CapMan for Good Foundation in 2019 in order to support causes and activities that positively impact education, entrepreneurship, and health and well-being.
The purpose of CapMan for Good is to support entrepreneurship, education and other activities in order to increase well-being in disadvantaged parts of society. Through its operations, the foundation promotes the prerequisites of a healthy society. CapMan for Good is an independent organisation that supports both existing organisations and new projects.
The participating companies include:
3 Step IT
Amrop
Are
Asappi
Atea
Bertils Health
Bilia
Bird&Bird
CapMan
CaPS
CapMan Wealth Services
Delete
DEN Group
Destaclean
DSV Road
Elämys Group
Elisa
Eltel Networks
Eversheds
Fairchild
Forenom
Fortaco
Front AI
Grano
Harvia
Heinonen Co
HP
Infocare
Innoflame
Intera Partners
Intrum
Isku Yhtymä
KPY Novapolis
Lämpöpuisto
Lease Plan
LeaseGreen
Leijona Group
Lumene
Makrobios
Man in Van
Matkahuolto
Mehiläinen
Mercamer
Mesvac
Niemi
Palvelut
Nordic Entertainment Group
Nordic Green Energy
Novart
Orkla Care
PaRi Materia
Pelican Rouge
Picosun
Printcom
Realmachinery
Renta
RTK palvelu
S&S Consulting
Securitas
Skydda
SOL Palvelut
Solera
Soprano
Suomen Kaukokiito
Synlab
Teboil
Tools
Toshiba Tech
Valokuitunen
Walki
Wendre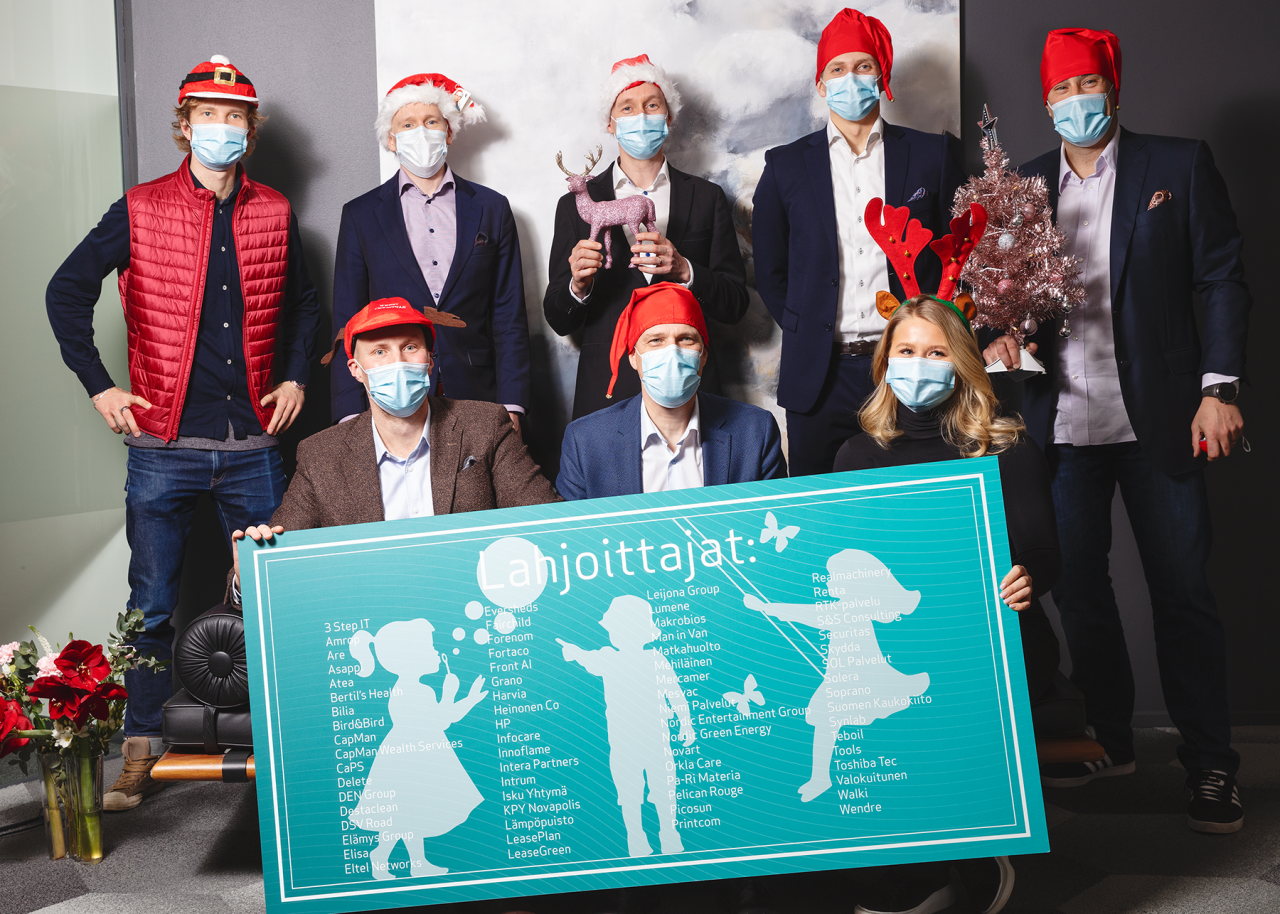 A heartfelt thank you for your contributions!